And I only wish I'd written it. No, this one is from The Rev. over at
The Galloping Beaver
, who is feeling very, very homesick today. Here are a few snippets:
In my mind I still need a place to go, all my changes were there

I've been living in Japan for a dozen years and I've only been home to Ontario a handful of times, so obviously I don't miss my home and native land that much right?

Wrong. Tonight I have a lump of homesickness that is sitting in my gut like a double order of congealed poutine.

...I've been gone from Canada longer than Abousfian Abdelrazik - so long that Canada's New Government has changed the law to say that I can't vote in Canadian elections without moving back to the Great White North. I don't own any property in Canada. I don't even have a Canadian bank account. Am I still Canadian?

Let me tell you something:
I still remind American co-workers why the White House is white. I am the go to guy in my Tokyo office if you have a question about French (though I barely scraped through high school French). I know my way around a canoe. I have a visceral loathing of American beer. My Japan-born-and-raised kids say "eh" when speaking English and blueberry pancakes with maple syrup is their favorite breakfast. I get cravings for peameal bacon and still call french fries "chips". I got drunk and argued politics one night at the Norfolk Tavern in Port Dover with Stompin' Tom Connors - my shoulder and left arm were even in the TV commercial for his "A Proud Canadian" album that they shot in Port Dover. I grew up playing hockey in Sault Ste. Marie when native sons Phil and Tony Esposito were huge stars and Wayne Gretzky spent a year at my high school while playing Jr. A for the Sault Greyhounds just before he turned pro and while the holy Montreal Canadiens were winning the Stanley Cup every year. I remember the windstorm that blew our neighbour's chimney down the night the the Edmund Fitzgerald sank a couple dozen miles away on Lake Superior. I've polka'd to Walter Ostenak live at Oktoberfest in Kitchener. I spent my 17th summer planting trees and clearing canoe portages northwest of Kenora for $10 a day. I cook tortiere at New Years from my aunt's recipie. I've seen bears at the dump. I spent a couple of St. Patrick's Days getting hammered and singing Stan Rogers songs with cadets from RMC at the Wellington in Kingston. I was once the editor of the oldest community newspaper in Canada. I've eaten moose and seen them up close in the wild. I've seen the Habs at the Forum and eaten smoked meat at Schwartz's, Ben's and Dunn's. I've slept under a beached canoe after watching the Northern Lights on a late summer evening in the middle of the bush in Northern Ontario 100 miles from anywhere. I've made maple syrup. I've eaten lobster bought right off the dock in Peggy's Cove. I've played hockey with my grandfather on a frozen pond. I've chased raccoons and skunks out of my garbage. I've eaten fresh smoke salmon in B.C. and salted dried cod in the fortress of Louisbourg. I am one (very small) part Mohawk. I've had my pipes freeze.
He goes on, listing at least a hundred things that make him, and us, Canadian. Things I've also done, things my friends have done, things I want to do and see before I die. Please, go
read the whole thing
.
I read it, and started mentally adding my own experiences. Eating maple syrup poured on snow. Flying over the Rockies, watching the faces of a couple from India as they looked out the window in awe, and thinking, "Welcome to my country". Spending Canada Day in Ottawa watching the boats go through the Rideau locks. Getting lost on a logging road on Vancouver Island, and getting my car pulled out of a snowbank in the Gatineaus. Sex on a snowmobile (a stationary one). Meeting Polkaroo on a Grade 3 school trip to the TVO studios. Seeing The Tea Party perform at the Baysville Hockey Arena, and Walter Ostenak play at Marineland. Camping next to a young British couple at a Pow Wow near Havelock. Starting my first car on a cold day with two screwdrivers propping the carburetor open. Listening to my three year old nephew go back and forth effortlessly between English and French. Lying on my back in the grass watching the Northern Lights cover the entire sky.
We all have lists like this. A hundred, a thousand, ten thousand moments both personal and communal that make us who we are and that could only happen here in Canada. And that's what it's all about, isn't it? All this angst over Canadian identity, and what it comes down to is the sum total of our shared experiences. This is our culture, our mythology. This is our country.
Pierre Burton had it exactly right: a Canadian is someone who knows how to have sex in a canoe. Happy Canada Day, Rev!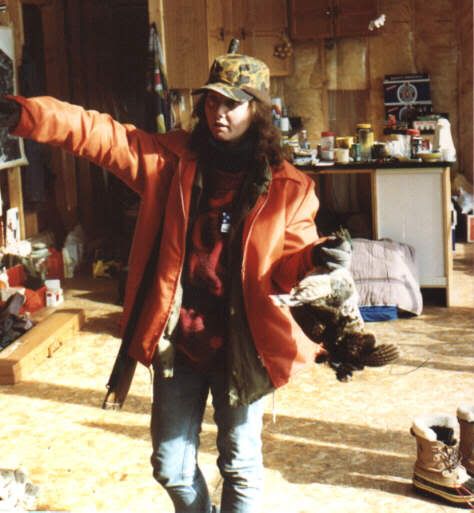 One of my Canadian moments:
bringing home grouse for dinner